For more than 30 years, we have been supporting the healthcare industry in providing training for its collaborators. Building on this expertise, our LMS EuroAcademy has been designed and developed for the healthcare industry:
Ensures compliance with the regulatory obligations of the Charter
Ease of implementation and integration of training courses
Optimisation of learner engagement (ergonomics and simplicity)
Expertise in the pharmaceutical environment
Pedagogical expertise in learning support
EuroAcademy is a reliable, ergonomic solution that meets the regulatory requirements of the healthcare industry for the monitoring, management, and certification of their employees.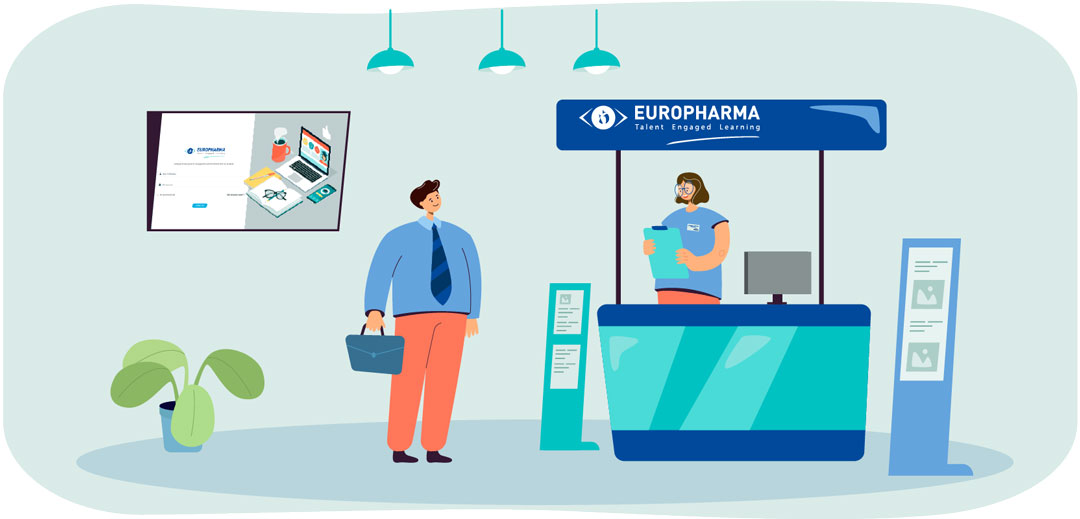 Digital Transformation, A Major Post-Pandemic Shift
The COVID-19 pandemic has changed the way we communicate and the way we receive training. A 180° turn was made during and after the pandemic by leveraging distance learning and promoting e-learning. Since 2022, face-to-face training is back in the spotlight. At Europharma, we invest in and promote blended learning by mixing distance learning, e-learning and face-to-face training. It offers the learner a certain freedom and autonomy to work at their own pace according to their learning needs, with assessment of their knowledge through in-depth monitoring thanks to the face-to-face training. The feedback from our learners is unanimous: blending training materials helps to maintain concentration and improve the commitment of learners, who thus become the driving force of their training.
EUROACADEMY, The Ideal LMS Solution for Health Training!
Our EuroAcademy LMS has been developed according to our pedagogical and pharmaceutical expertise acquired over 30 years. The healthcare industry has its own regulations regarding the monitoring of training and certification of its promotional and non-promotional employees. Our expertise in healthcare training design, acquired over the years, has enabled us to develop an LMS that perfectly meets these needs.
Simplicity of use, user-friendly ergonomics, UI/UX design and quality content are assets that are consistently highlighted by our clients.
A First-Time for Europharma at Learning Technologies.
Europharma is pleased to be part of the next edition of the Learning Technologies conference France, which will take place on the 1st and 2nd of February 2023 at Porte de Versailles, Paris.
This event brought together more than 7,000 e-learning, training, and human resources professionals at its last edition in May 2022. The 2023 edition will bring together more than 250 exhibitors and 150 conferences led by 200 experts in training, e-learning and corporate learning. This exhibition is an opportunity to bring together the leaders in training in one place, to share news and discuss the way forward for training.
During these two days of the of event, conferences will be led by experts around learning. 4 rooms, 4 themes, 4 atmospheres:
Paris conference room: The digital transformation of learning
Berlin conference room: Lifelong learning
Las Vegas Conference Room: Innovation in Learning
London Conference Room: Global Learning and Language Learning
Please register for a free on the Learning Technologies France website to get your visitor badge.
So don't wait any longer! Reserve your spot and meet us on the 1st and 2nd of February 2023 at stand K74!