Today, we have high-performance digital tools for training. We offer you our new generation LCMS (Learning Content Management System) platform. Since September 2019, EUROACADEMY offers a pedagogical learning environment available 24/7 on all supports (tablets, smartphones, computers).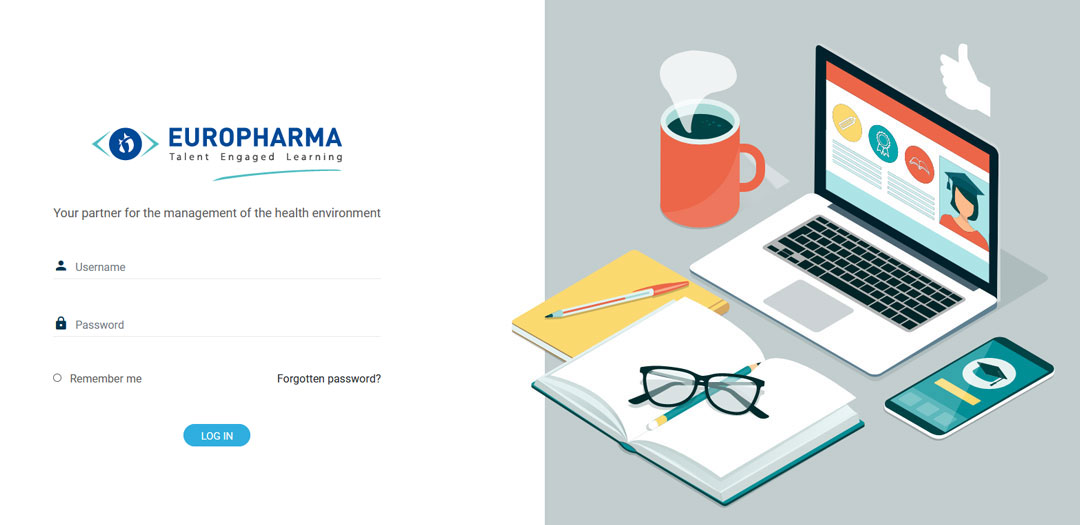 Validation and Quality Assurance
EuroAcademy is a validated and fully qualified platform according to the recommendations of the GAMP5 standard. With the aim of continuous improvement, our qualification process implements different documented phases in order to keep the site in a validated state with corrective and evolutionary maintenance. The platform is thus continuously improved, in order to optimize the use of existing tools following user feedback, or by adding new functionalities. The EuroAcademy environment has been designed in compliance with the RGPD (General Regulations on Data Protection) and offers protected and secure processing of personal data. On the subject of IT quality, the audit trail tool is a key asset in order to identify and trace all the actions that will have been carried out on the platform, particularly in the event of an inspection.
Also on this theme of IT quality, the audit trail tool is very important in case of inspection to be able to list and trace all the actions that will have been done on the platform.
A different experience according to your profile
In order to offer the most appropriate functionalities for each user profile, we have identified 4 distinct roles: training manager, learner, tutor and designer.
The Training Manager can manage learner access and training sessions, and validate content before it is put online. This user has follow-up indicators, in particular to identify possible points of improvement on the training courses: success rate for each evaluation questionnaire, automatic e-mail alert, etc.
The learner (or employee needing training) has access to a personal dashboard, displaying information concerning him/her such as the status and schedule of his/her training, level of progress, and any downloadable documents (certificates and attestations). Within each training course, visual elements inform the user about his progress in the course (cursor, and markers for the rate of screen reading, pictograms for the presence of tests...). Other information is displayed, via a system of notifications and reminders, as well as by e-mail.
The Tutor needs to monitor the progress and results of his teams and easily manage the planning of learning. To this end, we have developed a dashboard giving a quick overview of the key progress indicators per training, with access to the complete balance sheets and individual evaluation sheets if necessary. Note that the tutor can also be a learner.
The Designer can design, build and integrate the training course independently or accompanied by our IT services.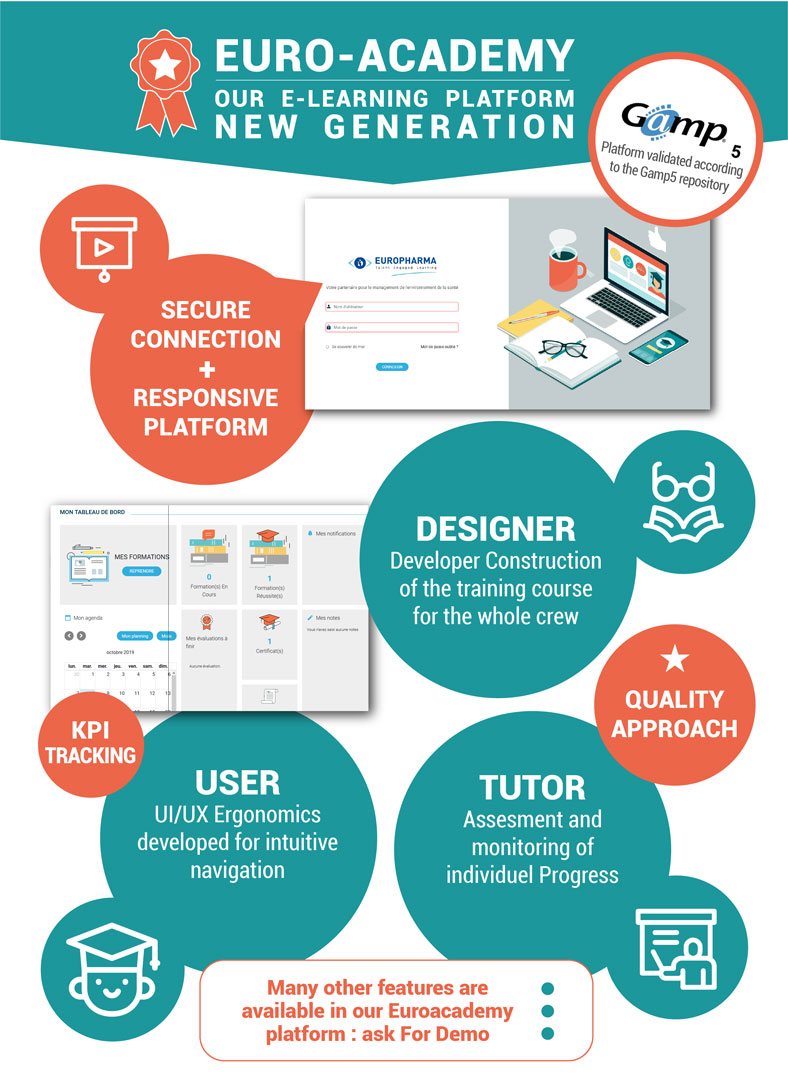 The EUROACADEMY platform can offer different types of training content such as modules (pdf, SCORM, html), videos, evaluations, etc. It has an automated mailing function capable of creating alerts, news and reminders. With a virtual classroom, archiving and versioning area (optimal quality process), the platform remains ergonomic, intuitive and easy to use with a redesigned design to facilitate the user experience.
The different types of tests present on the platform (pre-test, training, and evaluation) promote learning:
During each test (pre-test, training, and evaluation) direct information on the status of "good" or "bad" answers is displayed.
At the end of each test, in addition to the score obtained, the wrong answers are listed. The knowledge to be reworked is also indicated with links to the corresponding course screens.
Our LCMS 2.0 is the ideal intuitive tool for coaching and supporting e-learning self-study to keep your employees engaged and dynamic.
Do not hesitate to contact us for a personalized demonstration.
Our teams and tools are available to accompany you.